It's been nearly 2 months since my latest update, but not because I've been inactive! Been quite busy on a new front, as I've almost accidentally started a side hustle, that of an Etsy shop producing movie prop replicas. If anyone is looking for some replicas of the business cards from American Psycho or Fight Club, check out Garcia's Handmade Goods 🙂
That's not to say I'm not trading stocks anymore. I very much am, and I'm happy to report things have been going much better since my last program update. Part of it has also been a change in my trading style, whereby I'm being more conservative in how much and how hard I go all-in with available cash. While this means the gains are smaller, the losses are also, but it also means I am trading a little more frequently.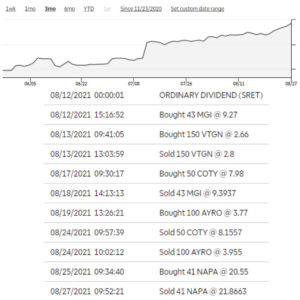 So it's almost been like doing smaller trades has acted as a hedge against bigger losses, which I'm sure gets a resounding "DUH" but you really have to think about the discipline and self-control it takes to execute your trades in a similar fashion every time. It could also be just a massive coincidence or stroke of luck, but I'm optimistically hoping that it is both the program update and change in strategy as the progress can be seen in my balance history (left).
Eagle-eyed readers will see a huge bump in early July; no, that wasn't a deposit, but a completely lucky buy I made with RCAT, having gotten in at $3.09 before a big announcement of a merger that sent the price skyrocketing past $5.00. Since my program looks strictly at numbers, I can't attribute that pick to the program knowing something big like this was coming up, but it was one of the best picks for that day, something I've seen many, many times before. So just holding hope that some other day it'll throw me another pick that will randomly blow up after I buy it 😀 As you can see in the chart below, it went far beyond $5.00, but as with anything else, you never know when the ride will be over, so I was more than happy to bail out when I did, pocketing a solid 68% gain within just a week!